There is this growing tendency to introduce natural oils into daily hair care – not only to keep the strands in a good condition but also to accelerate their growth. Two commonly recommended natural oils to boost hair growth are: cedar oil and castor oil. Keep reading to find out what tells them apart and which one is more effective.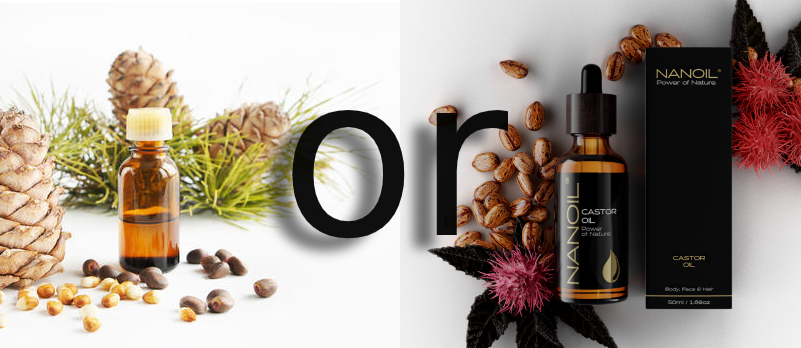 The subject of treating hair with oils is so broad that we could write volubly about it, especially when taking into consideration all the oils that can be applied to hair and body. Therefore, let's focus on two the most commonly recommended oils that are said to help grow long hair.
What makes castor oil different from cedar oil?
Again, castor and cedar oils are enumerated when talking about ways of speeding up hair growth processes. Apart from encouraging hair to grow long and thick, they also handle various scalp ailments, e.g. psoriasis, dandruff, boldness. Despite many similarities, there are a few key factors that make both oils different. What are the factors?
Cedar oil is an essential oil that isn't obtained – as castor oil is – due to cold pressing process. Instead, it's extracted due to distillation process, hence lower nutrient concentration. Moreover, essential oils are known for causing mild skin irritations therefore natural castor oil makes a far safer choice.
The way of extracting the oils and their chemical constituents aren't the only things that tell the oils apart – consistency is yet another feature to mention. In general castor oil is thicker which means that each drop of this oil offers more nourishing substances. As a consequence, castor oil is also more efficient and simply lasts longer.

Cosmetic properties of castor oil
In terms of treating problematic skin type, it's castor oil that appears to be infinitely better. This quality is credited to the unique ricinoleic acid – which is one of the chemical constituents of castor oil – that makes castor oil bactericidal.
In spite of the fact that castor oil deals with bacteria simultaneously eliminating acne and restoring the right skin's pH level, the oil also plays the role of an emollient – it makes sure that the hydration level in skin and hair is adequate. Also, castor oil reinforces hydro-lipid barrier so it strengthens the natural protection against dryness, the sun, toxins and free radicals.
---
The best castor oil – Nanoil
Size: 50 ml/1.69 oz
INCI: Ricinus Communis Seed Oil
If you're looking for the best natural castor oil, you have to give Nanoil a go. As the only one it's cold-pressed, unrefined and 100% organic with Ecocert-certified quality. This elegant product is nothing more but the purest oil extracted from castor oil plant (Ricinus communis) that is free from aromas, parabens and silicones. The power of natural substances is what makes Castor Oil by Nanoil so potent – all of them are hidden in a light, golden and well-absorbing oil.
The key features of Nanoil Castor Oil: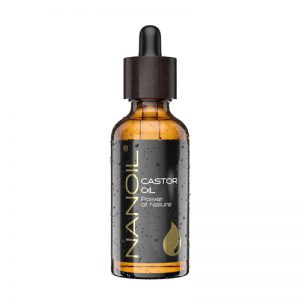 Counteracts excessive water loss.
Accelerates growth: not only hair by also eyelashes.
Regenerates weak skin, hair and nails.
Prevents brittle and splitting nails.
Frees skin from toxins and impurities.
Reduces acne and skin irritations.
Intensifies hair color and boosts its shine.
More info on the website: nanoil.us
---
Additionally, castor oil affects hair bulbs so they gradually become stronger. Another favorable feature of pure castor oil to mention is that it stimulates microcirculation in scalp and this boosts natural hair growth processes. As a consequence, strands get stronger, thicker and longer.
Finally, there is yet another thing that helps castor oil stand out – it offers a strong detoxifying effect. Not without reason is castor oil recognized as the most popular oil used for face cleansing purposes – it can be used to carry out full makeup removal. Castor oil frees skin from toxins and all types of impurities. This undoubtedly makes it the best beauty oil.